David Ley: Massive densification will not solve housing affordability
Opinion: Densification has not yielded more affordable housing. In fact, the opposite is true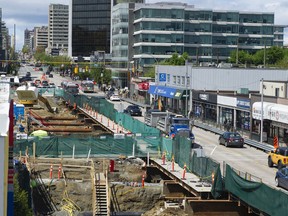 Article content
My slide collection includes images from city planning reports of the 1960s extolling freeways as a solution for Vancouver's transportation problems.
Article content
The enthusiasm for this solution was widespread, virtually an obsession at City Hall. Here was the path of progress, the route to the urban future. The destruction of the existing built environment and the widespread displacement of businesses and city residents were scarcely acknowledged.
Today there is a new obsession at City Hall, a fixation on massive densification as the solution to urban housing problems. But where has densification produced affordability? Not in North False Creek, not in the Cambie-Oak corridor. The single-mindedness of the densification mission will inevitably compromise the primary goal of affordable housing in sustainable communities.
Increased densities near subway stations are defensible. But unfortunately, up-zoning for higher densities as laid out in the Broadway plan and the wider city plan raises land values, and as developers pay more for a site, their cost is passed on to owners and tenants. The result is unaffordable housing.
Article content
According to CMHC, monthly rents for new apartment units (built 2018-2021) in the City of Vancouver averaged $ 2,100 for a one-bedroom unit and $ 3,000 for a two-bedroom unit. Rents in a central location like Broadway would be higher.
Even now, with a rent in the Broadway corridor of say $ 2,400 for a new one-bedroom unit, an annual household income of $ 96,000 would be necessary if rental costs were at the standard of 30 per cent of gross income. For a new two-bedroom unit at $ 3,400, the equivalent necessary household income would be $ 136,000.
These incomes are well above Vancouver's median household income, and beyond the reach of most workers in local businesses and health care services around Broadway.
Once up-zoning occurs, the genie is out of the bottle, and the housing stock faces inflationary pressures the city cannot control.
Article content
Housing, including rental apartments, has become a primary investment asset. Both individual and also institutional investors (like REITs and equity funds) are circling around housing investment prospects. Overseas speculative investment has been slowed by provincial legislation, but substantial made-in-Canada investment remains, and was a significant driver during the pandemic price boom.
Densification with rising land values ​​creates new investment opportunities in a city where values ​​have risen constantly since Expo 86. The construction of a highrise tower, say at Granville and Broadway, creates development expectations for nearby blocks, raising land values ​​there, and making precarious the survival of older, larger and more affordable residential and commercial rental properties.
Article content
Older apartment properties will quickly disappear. Tenant displacement will be widespread. Instead of preserving affordable rentals as a priority, the inevitable result of massive densification will be City Hall-induced gentrification.
Mayor Kennedy Stewart has made a significant promise that tenants displaced in the Broadway corridor will be rehoused in a new building on the same site at the same rent.
We should be wary. Would a future mayor feel bound by such a promise? The city has broken past assurances, notably in the manner in which the Broadway and city plans ride roughshod over existing neighborhood plans.
Moreover, developers are already concerned that such affordability assurances would disrupt their anticipated profit line. In London, developers have been able to reduce existing affordable housing commitments through "viability assessments," arguing to councils that changing conditions have compromised the viability of their original affordability agreement. Rather than lose development, local governments have typically failed to uphold affordability commitments.
Article content
Other weaknesses with massive densification include the failure to provide adequate services to support population growth, which along the Broadway corridor is equivalent to the addition of a new town. Equally problematic in light of the City's climate agenda is the extensive destruction and reconstruction of Vancouver's built environment, contradicting any green philosophy of reduce, reuse, recycle.
The British housing charity, Shelter, has identified the existence of a housing emergency, especially in London. A housing emergency also exists in Vancouver.
What is to be done? An emergency call for an all-hands-on-deck response. Housing sites should also be sought in areas not currently zoned for housing.
Article content
The vast and underutilized False Creek Flats, east of Main Street, could house thousands, especially now with a major employment center, the new St. Paul's Hospital, under construction. What about highrise construction on surplus railway land? (Swiss Rail has been a pioneer here.) What potential is there for residential development in partnership with the Port of Vancouver?
And what about the school board? Within walking distance of my home three schools have surplus open space that might accommodate affordable apartments for teachers and other VSB staff. Housing close to work sites precludes polluting vehicle travel.
Opening new spaces – especially on public land – for housing might also depress pernicious high land values, the enemy of housing affordability.
Article content
To such initiatives must be added substantial contributions to social housing by the federal government, commensurate with the additional demand on Vancouver housing caused by its expansive immigration targets.
These suggestions are illustrative and schematic, and are intended to prompt imaginative policy-making that thinks beyond the current obsession with densification alone. Such policy-making would certainly embrace soft densification, but not the widespread and massive destruction / reconstruction envisaged in the Broadway and Vancouver plans.
It was the threat of massive destruction and displacement that brought an end to the freeway era. The freeway system advocated by the NPA council in 1967 was decisively rejected in subsequent civic elections. This fall's civic election will provide a similar survival test for the policy of massive densification.
David Ley is a professor emeritus of urban geography at UBC. His book, Housing Booms in Gateway Cities, will be published early next year.