Elementary's new school garden helps bring peace to students
Nathaniel Hawthorne Elementary, which recently moved to a brand new campus, hosted its school garden inauguration on Friday, May 6th.
Instructional Coach Rebecca Ajuluchukwu launched the garden project earlier this school year when students returned to campus for face-to-face learning after months of at-home classes.
"During the pandemic, I have a lot of time to invest in my own garden at home," Ajuluchukwu said. "When we got back to school, I realized we had a lot of social-emotional changes with the students, and thought 'if gardening brings me a lot of passion, it can bring a lot of joy and passion to others.'"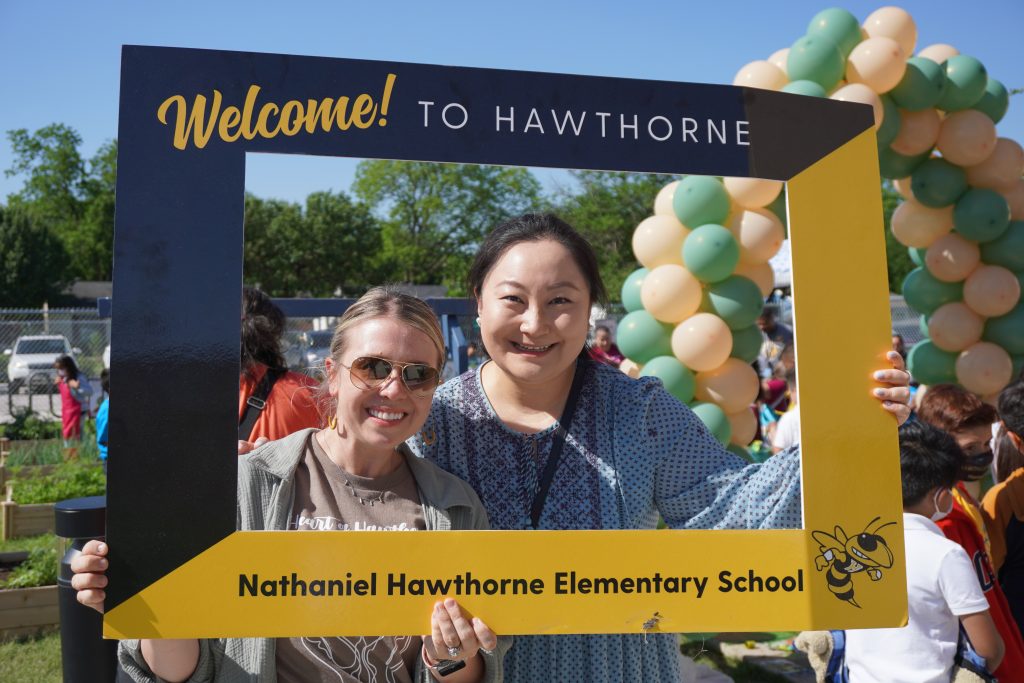 Dallas, the local chapter of a national organization of women's volunteers who address social issues such as poverty, violence, and education, among other initiatives.
"We provide these specific grants to educators who would complement the kids' education," said Kiki Gao, Grants for Innovative Teaching chair for the Junior League of Dallas. "This project is one that really stood out from the beginning. The teachers were very passionate and it was very well thought out, so it was very easy to advocate for it. "
Hawthorne's garden has several beds that are growing cantaloupes, lettuce, tomatoes, peppers, and other fruits and vegetables. The garden's beds and stepping stones have been decorated by students. Ajuluchukwu organized a day for the scholars to help put the beds together, then asked parents to volunteer to put all the lights in the beds. Finally, the Hawthorne Gardening Club asked all the seeds at the beginning of April.
"Our garden is the extension of what's going on inside our building," they said. "It's another learning space for the students, so we can teach the kids outdoors, in nature. It also connects to the social and emotional aspect because it is a place where they can have peace and quiet outside while they learn. They've been taking ownership and they're the ones who always tell me what they see and what they find, and that's the best part. "