FSU chemistry doctoral student wins ACS award for research on recyclability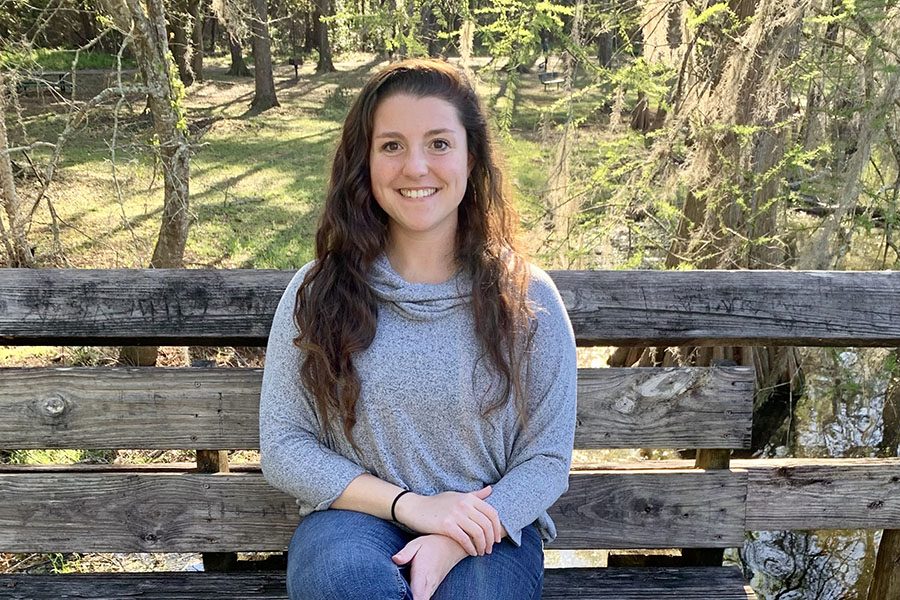 A Florida State University doctoral student has won an award from the American Chemical Society for her research on refining methods to screen new materials for their potential to be recycled.
Brianna Coia, a doctoral candidate in the Department of Chemistry and Biochemistry at the FSU College of Arts and Sciences, is among the four students selected nationwide to receive the 2022 ACS Division of Polymer Chemistry (POLY) Graduate Student Travel Award. The award will allow her to present highlights from her research at the ACS Fall 2022 meeting in Chicago.
"It is an honor and I feel very fortunate to have received this award," Coia said. "I am excited to have an opportunity to share my research with the scientific community, and it is amazing to know that others are not only interested in but also actively supporting my work."
Coia will present a new study published in May in the Journal of Polymer Science that details a process and calculations that better predict a material's recyclability.
"The ability to identify not only the starting materials can be recycled but also the ideal reaction conditions to achieve this feat can significantly reduce the time, cost, effort, and waste produced in the pursuit of new and recyclable materials," Coia said.
Associate Professor of Chemistry Justin Kennemur served as the lead investigator for the research, and the team also included undergraduate researcher and FSU biochemistry alumna Sarah Werner.
To conduct the work, the team analyzed cyclopentene-based monomers – molecules that combine to form polymers – chemical compounds that usually take the form of a colorless liquid and come from petroleum feedstocks. Researchers conducted a computational study to understand how variables in density functional theory calculations – methods used to calculate the electronic structure of atoms, molecules and solids – effect resulting in ring strain energies. A fine-tuned method to calculate these strain energies was identified and improved the predictability of cyclopentene-based monomer behavior in polymer chemistry.
"We have had a vested interest in these systems for some time to create new precision elastomers and plastics but also due to their ability to be chemically recycled," Kennemur said. "There are many choices with regards to computational methods; Some are quicker and deemed less accurate while others are more scientifically rigorous but at a cost of longer computational time. This work explored a 'Goldilocks' approach to help identify the most rewarding accuracy based on the computation time and effort. "
The research reveals fundamental deviations to the calculation setup that help play a role in more accurate predictions. The team said the results are reassuring as they confirm the effectiveness of some widely used assumptions in the field of theoretical chemistry. Regarding recyclability screening, these results lay a solid foundation for future studies.
"This paper may focus on predicting the recyclability of new materials, but it is actually helpful for most of our other projects as well," Coia said.
The ACS Award, sponsored by the POLY Industrial Advisory Board, provides Coia and other winners the opportunity to present their work at a national meeting, which attracts thousands of academics, chemists, chemical engineers and other professionals and students from around the globe.
Kennemur said he knew Coia would be a competitive applicant and that her research focus integrates perfectly with the sustainability of this year's conference theme.
"Coia checks many boxes needed for a developing scholar," said Kennemur. "She is self-sufficient, diligent, curious, and hard working. She does not back down from a challenge, which is why she has developed an entirely new field of research focusing on group dealing with computational techniques to help predict experimental outcomes. Above all, Coia has learned how to learn, which is a critical skill requirement for graduate student researchers. "
Coia's work is among many innovative research projects being conducted within the Kennemur Group, which focuses on developing novel polymers to address a variety of societal needs. The group uses a similar synthetic approach to a variety of projects, including identifying biomass feedstocks that make polymers and developing truly recyclable materials.
The group hopes research, such as Coia's, will help to develop a better understanding of the fundamentals of this synthetic approach, thereby fostering research progress and reducing the time, cost, effort, and waste produced in pursuing these new materials.
This research is supported by the National Science Foundation.