How to succeed in the Commercial Real Estate Industry
Christine Ramsey, Draper and Kramer, Inc., Chicago, IL.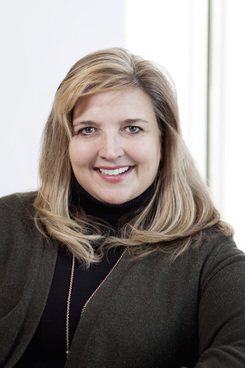 As Chief Administrative Officer of Draper and Kramer, Christine Ramsey was named one of the Chicago Tribune's "Top Workplaces" in 2017 and 2018. Christine oversees human resources, communications, stockholder relations, risk management and office services.
Title: Chief Administrative Officer
Area of ​​expertise or focus: Oversees human resources, communications and stockholder relations.
What has been your biggest challenge in your particular role? How have you overcome those obstacles? I entered the real estate industry after a career in financial services and healthcare technology where I focused on human resources among other key operational areas of these businesses. When I came on board over six-and-a-half years ago it was like joining a conversation mid-stream. The challenge was learning a new industry, company and team while at the same time being responsible for helping to shape corporate strategy.
I overcame that by relying on my relatable experiences and desire to learn. I am not afraid to ask questions to understand the 'why' behind our strategies and actions. Above all, it is about being part of a supportive team who understands the importance of shared success. When you are all rowing in the same direction, you can really achieve anything.
What about your current role/position at the company are you most happy with? In my role, it is all about the people and cultivating a culture that puts team first and ensuring we all have the tools, resources and clarity needed to be successful. So, while I am proud of our achievements, culture is a journey, not a destination. We need to balance what has made us special and unique with the rapid changing environment in which we all work today. We are all witnessing a pivotal moment in history when it comes to workplace culture, and personally, I'm so thrilled to be part of shaping what that looks like for Draper and Kramer.
What is the best piece of advice you have received that has helped you succeed in your industry and you have any advice specifically for the next generation? Commercial real estate is a fascinating, large, multi-faceted industry, whether it is retail, residential, multifamily or the investment side of the business. The best advice I received was to jump in feet first and be ready to learn; ask questions, be curious, rely on the strength of others and continue to push forward. Pretty soon the knowledge gap starts to decrease, and the fun really starts.
One piece of advice I would give to the next generation is to find a mentor or two that you trust and who believes in you enough to invest in your success. Commercial real estate is an entrepreneurial, multi-discipline industry with many different paths. Take advantage of the expertise of others to help you chart your own path that best aligns with your talents and aspirations.
Would you advise any younger person to begin a career in CRE? 100%! I wish I had gotten into the industry years earlier. Certainly, having a real estate or finance degree is helpful, but our industry is very diverse with many "on ramps" to explore. My advice is to really know and rely on your talents and abilities to get you started on a path where you can be successful, be curious and always be on the hunt to learn something new and lastly develop a trusted network. The most successful real estate professionals I know have a strong network of peers that they have cultivated over years of being in the trenches together.
Please share an initiative that you are working on that you are most proud of. An initiative that I am most proud of is a program we started at Draper and Kramer a few years back called "DK Elevate," a formal 12-18 month program for high-potential, high-performing employees who want to take the next step. in their careers. Over this timeframe, our "Elevators" work as a group to build upon their strengths, defining a path forward and expanding their professional networks. Individually, the participants construct a development blueprint focused on areas where the individual wants to learn and grow – and we work through that blueprint together.
In your opinion what takeaways did we learn from the COVID crisis? One critical takeaway has been awareness that one person's comfort level or preferences when it comes to working from home vs. in the office may be different than someone else's. To put a one-size-fit-all policy in place did not seem right. We arere all feeling our way through this in our own ways. So being flexible and adaptable as an organization was a key take away.
Another big learning is that, in some ways, it took us being separated to really create close connections. What I mean by that is we are now inviting people into our homes more than ever – people with babies on their lap during work calls, dogs barking in the background, kids coming in and out, more casual conversations – and all the pretenses that you would get in an office are gone. These are the realities of our daily lives. When you see the CEO sitting at the kitchen table and you're at yours, it kind of levels the field for everyone.
---
What three statements would you use to describe your work mindset?
Have fun. I love to walk through our office (or join a Teams calls) and hear laughter and witness the positive impact of our teams connecting through humor. Take what you do very seriously, but not yourself.
Be genuine. Knowing who you are and celebrate what makes you unique is a differentiator. Share that piece of yourself with others and spend less energy on pretending to be what you are not for the benefit of others.
Lastly, 'this to shall pass.' Our industry can be challenging so recognize that both the highs and lows are just a point in time and enjoy the ride.


---
ALM's Professionals Network on LinkedIn, Advancing Future Leaders. We are excited about this pivotal group. Click here to join.