Professional Photographer Keeps Alaska in Focus
For Natalie Fobes, taking a photograph is more than simply capturing a moment. It's about forming a deeper connection to time and place and the people (or wildlife) behind the photos – experiences she will take with her forever.
As a professional photographer, Fobes, based in Seattle, has traveled around the Pacific Northwest and the world capturing animals in their natural habitat for National Geographic, conducting photoshoots for corporate clients, and everything in between. Her work has also taken her to a destination that has captured her heart and spirit over her lifetime – Alaska – the last frontier. Fobes' first trip to Alaska was to Dutch Harbor in 1981 and since then, she has returned to the state many times to photograph wildlife, fishers, and Native American cultures. Because of her extensive experience in Alaska and on fishing boats, Fobes was able to go out with the fishers and capture the aftermath of the Exxon Valdez oil spill disaster in 1989.
Most recently, Fobes cruised through Alaska to help travelers connect to their natural surroundings as an on-board "Alaska Insider" photography expert for UnCruise Adventures, a small ship adventure cruise line that promises "NO LINES, NO CROWDS, BIG ADVENTURE."
As an expert on Alaska, Fobes was hired by the cruise line along with other photographers, biologists, environmentalists, professors, and native indigenous people to enrich the guest experience by presenting workshops and leading activities. While onboard. Fobes presented two lectures and a series of half-day photography workshops, and gave informal instruction to UnCruise guests with varied levels of photography experience.
"Someone told me people have to love and feel engaged with something to want to save it and protect it," she said. "My hope is everyone who travels to Alaska will come back with a feeling that it is such a special place; it needs our protection. "
Cruise keeps the economy afloat
The UnCruise fleet features small expedition vessels and boutique yachts – each one uniquely suited and equipped for an unbelievable experience. The shallow draft makes each vessel capable of nimble exploration and opens up new locations that the big ships cannot go.
Although the UnCruise expeditions leave from Alaska to operate more sustainably and save fuel, most of the UnCruise staff live and work in the Seattle office right at Fishermen's Terminal. It's a great example of how the cruise industry supports local jobs in our region. For example, in the 2022 Seattle cruise season, 1.2 million cruise passengers will depart from Seattle, providing nearly $ 900 million in economic benefits supporting 5,500 jobs. Cruise ships boost the economy through onboard and corporate office jobs and dollars spent at restaurants, hotels, and local attractions. And even provisioning home port vessels with local goods like wine, produce, dairy products, seafood, flowers, and services like piano tuning.
Teaching rejuvenates and inspires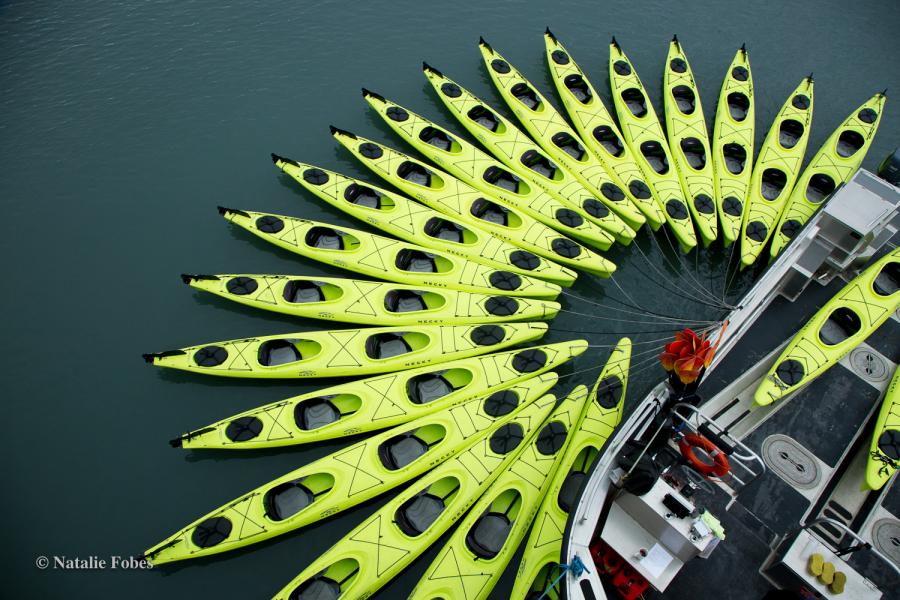 Fobes gets personal satisfaction from sharing her love of photography and watching her students improve their skills.
"That's the best thing about photography. When you take a photo, you are emotionally attached to that experience. Through photography you are able to relive that experience over and over again. When you help people improve photographs it's not only about them enjoying and living that experience. They are presenting that experience to others and helping others react to that photo. It's really satisfying for me. "
Fobes loved teaching so much that she conducted a few extra and personal workshops for UnCruise guests. While they were on deck looking at scenery, she provided quick tips for every level of photographer and showed examples of what she photographed during the cruise.
"We'd talk about composition and color and decisive moments," she said. "At the end of the day people would gather together and I would set up my laptop and show people how to adjust photos in (Adobe) Lightroom. I loved the interaction between guests, the wildlife, environment, and photography. Working on the cruise ship was a great combination of all of those things. I got a lot of excitement and inspiration from the guests and their enthusiasm for seeing the beauty of Alaska. The entire experience was wonderful. I came back refreshed and inspired to get back into my work. "
Lifechanging experiences
When people travel to Alaska, they come back forever changed, Fobes said.
"Alaska is where I go to rejuvenate myself. The ecosystem and the environment is so magnificent. It's very fragile and my hope is that anyone who experiences the beauty and wonder will realize they need to help protect it so others can experience what they experienced. "
Humpbacks breaching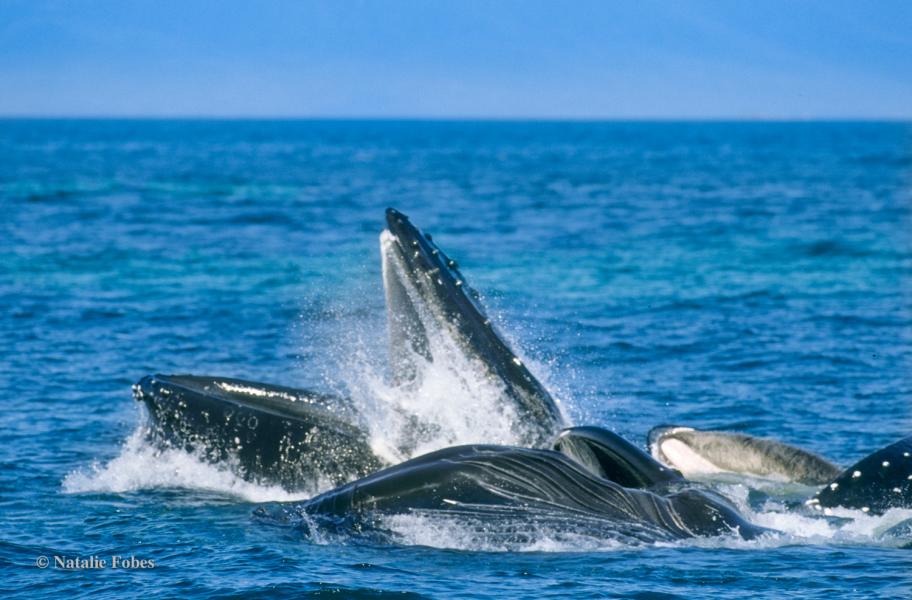 Fobes recounts several close encounters with wildlife that brought all travelers closer together. One night after dinner, guests were on the deck looking at clear blue skies and calm water, watching for whales. Suddenly, the skipper spotted humpback whales in the distance. Travelers got a view of the whales exhaling and slapping their tails a quarter of a mile in front of the ship. Suddenly a humpback whale leapt from the calm water and splashed down around 300 feet front of the ship, silhouetted in the evening sun that highlighted the splash.
"You could hear a cry from the crowd – a collective gasp from people on deck," she said.
Then laughter and cheers.
"There had been no indication a whale was that close to us. I had turned to talk to someone, and the only thing I saw from the whale breaching was the splash, "she said. "It was one of those moments, a collective experience that no one will ever forget. It was made better by the reaction of people experiencing it. "
Fobes had planned to give a lecture later that evening on her experience photographing the Exxon Valdez oil spill, a tragic story and still an emotional experience for her.
"I told the cruise director, 'I don't think I should give lecture about Exxon Valdez today'. I wanted that amazing moment to be the story of the day, " she said.
Orcas spying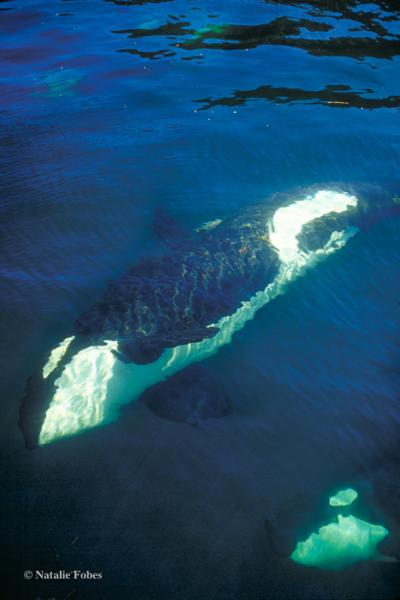 Fobes shared another epic wildlife moment on another cruise with an organization focused on stories about the environment and biology. The ship was traveling through the Inside Passage and encountered orcas near Johnstone Straits, British Columbia. The vessel shut down its engine and kept its distance to avoid interfering with the orcas.
"We saw orcas coming closer and then they disappeared," Fobes said. "When I got to the rail and looked down I saw they had gone under our boat and turned on their sides so they could look up at us. It was amazing. "
Another time, Fobes was on deck on an UnCruise ship listening to the quiet around her, and the rain in the trees and on the water. Off in the distance she heard a humpback whale blow. The experience reminded her of why Alaska is such a renewing place for her and why it touches people when they go.
"I think the personal experience that people have in Alaska reminds them that living in crowded cities may not be normal for the human species. We need to look out for wild places to make sure they don't disappear. We need that as a human species. "
Elevate your photos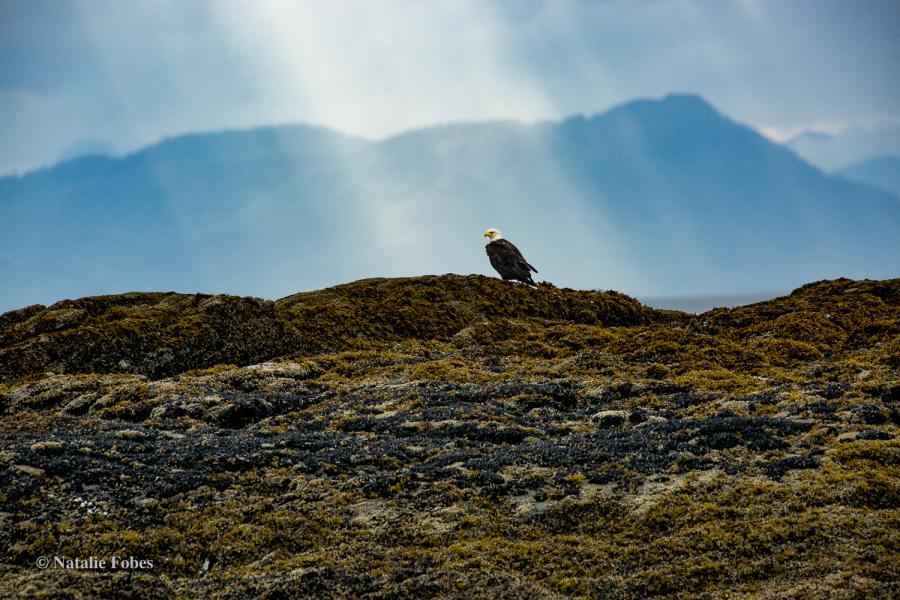 Keep reading for tips from Natalie Fobes that will take your photos to the next level.
1. Consider composition
Before you take your shot, take a minute to think through your photo and what the audience will see.
"When you're starting photography, people tend to put whatever is of interest in the center of the photograph," Fobes said. "I encourage people to look at leading lines in nature and see what they are doing as creating a photograph rather than taking a photo."
Pro tip: When you are composing your photos, use the rule of thirds. Divide your shot into nine equal sections with a set of vertical and horizontal lines. With the imaginary frame in place, place the most important element (s) in your shot on one of the lines or where the lines meet.
2. Go horizontal
"Alaska is wide and people tend to take smart phone photos vertically," Fobes said. "Think about turning your phone to a horizontal position and exploring the composition that way."
3. Anticipate the action
You should think like a sports photographer when photographing wildlife. A photographer must learn the rules of the game, anticipate the action, capture those decisive moments, and yield the right of way if a football player — or brown bear – runs in their way.
"Anticipate the behavior of animals in your photo; anticipate the action, " she said. "Be ready for that action when it comes."
4. No filters, more pop
"I'm not a believer of using filters or dramatically changing photos, but I do recommend increasing contrast a little by adding a deeper black in a post processing software program like Adobe Lightroom. Often this will pop the photo. "
She also teaches students about dodging and burning, a technique originally used in a darkroom that can now be recreated in image processing software. Dodging can lighten a spot on the photo, and burning will darken a particular area.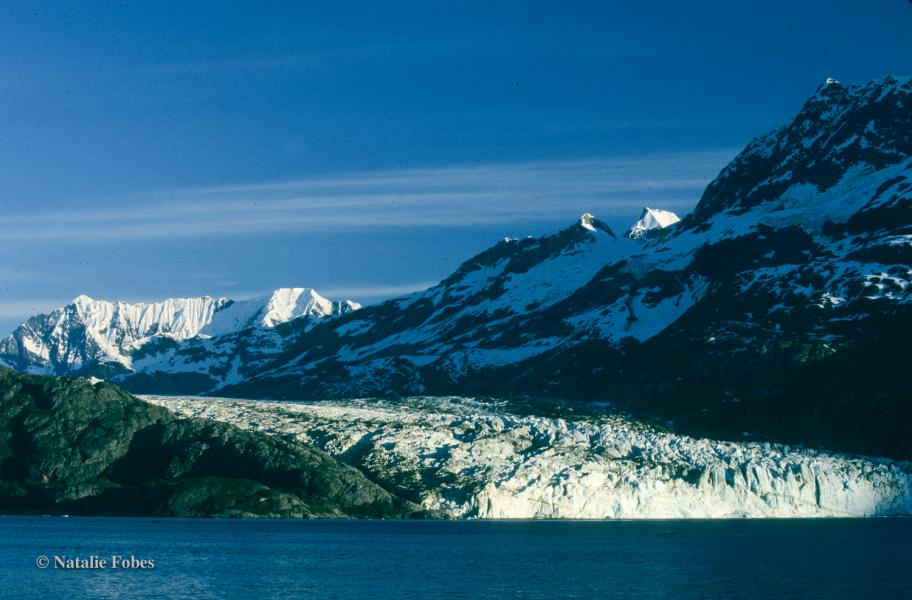 More resources
Take these LinkedIn Learning courses from Natalie Fobes to learn at home before getting out into the wild.