St. Clair College, Zekelman family opens new business school building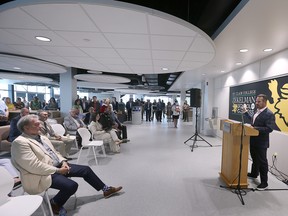 Article content
Students at St. Clair College will have access to more than a dozen new classrooms and plenty of student space with the opening of the college's business school building Wednesday.
Article content
The Zekelman Center of Business and Information Technology will house about a dozen programs and give the school more than 40,000 square feet of new space to house its rapidly-growing business and technology programs.
"I'm so happy and excited, both on behalf of the school and our students. This is space that was so much needed," said St. Clair College President Patti France at the official opening of the building on Wednesday.
"We're just honored and thrilled to have the Zekelman name representing the School of Business and Information Technology. They're pillars in our community. They're wonderful role models for our students."
I need the next generation of leaders, of dreamers, and that's why we do it
The school was named for the Zekelman Family, who made a major donation to St. Clair College. But as the crowd learned on Wednesday, the Zekelmans weren't done with the $5 million donation toward the Zekelman Center: Barry Zekelman, CEO of Zekelman Industries, announced an additional $1 million donation, inspired, he said, by how well the college put the money to use.
Article content
"I can't thank you enough for dreaming the way you do and bringing this to the city and making it available to our youth," Zekelman said.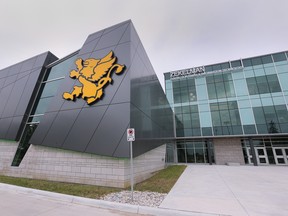 The Windsor-born steel magnate said he gave back to St. Clair College out of a sense of responsibility to his community, having grown up just down the road.
But Zekelman said he also hopes to help foster the new generation of business and technology leaders, noting that he has St. Clair College alumni working at Zekelman Industries.
"We need your graduates," he said. "I need this school. I need this college. I need the next generation of leaders, of dreamers, and that's why we do it.
"To see that transformation is truly incredible. To have our family name on this school, it makes us very proud."
Article content
Glos Architects first began work on the project in 2018 and the $23 million project broke ground in September 2020. The two-storey structure adds 13 classrooms, including a large auditorium known as Alumni Hall, and several student study areas, a computer lab, lecture halls and meeting rooms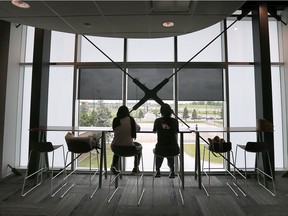 St. Clair College also used the opportunity to announce a new scholarship for the 2022-23 school year named in honor of the Zekelman family.
The Zekelman Center will house programs that include accounting, marketing, human resources, finance and a new degree program: the Honors Bachelor of Business Administration.
"In total, almost 50,000 square feet of beautiful new and renovated space which will allow us to launch new programs and expand existing programs," said Jim Marsh, a senior director of the Zekelman School of Business.
Article content
"These new facilities will make a lifelong impact on the economic health of our region. Tens of thousands of people will learn new professions and skills we need to power our future.
The building will also house the college's 7,000 square foot esports facility, billed as the largest of its kind in Canada, when it opens later this summer.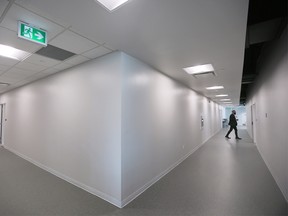 Funding for the project came through the college, student fees administered by the Student Representative Council, the school's alumni association — for which Alumni Hall is named — and the Zekelman family.
France said that business and information technology are two of the college's biggest schools that are growing rapidly. In Southwestern Ontario almost 40 percent of students are enrolled in those two schools.
"We're seeing more and more students wanting to go into business and information technology," France said.
Zekelman Tennis Facility open for play

Zekelman family donates $15M to Holocaust Memorial Center

Hiatus House, Zekelman Foundation in partnership for new transition house