Surgeons are Australia's most prolific real estate investors
They are followed by anaesthetists and internal medicine specialists, 40 per cent of whom declared rental income in 2019-20. These three occupations also make up the country's highest-paid.
Rounding out the top 10 are psychiatrists, dental practitioners, school principals, other medical practitioners, engineering managers, mining engineers and senior non-commissioned Defense Force officers.
By contrast, just 1 per cent of fast food cooks and 2 per cent of baristas invest in real estate.
While the number of property investors actually fell in 2019-20 for the first time since the global financial crisis in 2007-08, it was by just 333 individuals.
Roughly 1.6 million taxpayers, or 71.5 per cent of investors, own one investment property, while 18.8 per cent own two. Another 9.7 per cent own three or more properties, while 19,895 taxpayers reported they own six or more pieces of real estate.
More than one in two property investors, or 54 per cent, were negatively geared, claiming a net rental loss in 2019-20.
The country's property investors collectively incurred a $166.5 million net rental loss in 2019-20, which was the smallest loss in two decades. The largest rental loss in 2007-08, when the cash rate was 7.25 per cent and investors lost more than $9 billion.
The share of loss-making investors has declined steadily over the past decade because of falling interest rates, which are tax-deductible. The trend is expected to reverse this financial year as the Reserve Bank raises rates.
Investors with fewer properties are more likely to be negatively geared. The average investor with one property claimed a net rental loss of $5842 in the year.
Property investment is increasingly the domain of older taxpayers.
About one in four property investors in 2019-20 was over 60, up from 14.7 per cent in 1999-2000. About half of investors are aged under 50, down from 61 per cent in 1999-2000.
The largest decline has been among people aged under 30, who made up just 4.3 per cent of the property investment class in 2019-20.
Not surprisingly, property investment is more common among wealthy taxpayers.
About 30 per cent of property investors had taxable incomes of more than $100,000 in 2019-20, despite only 16 per cent of taxpayers earning this much.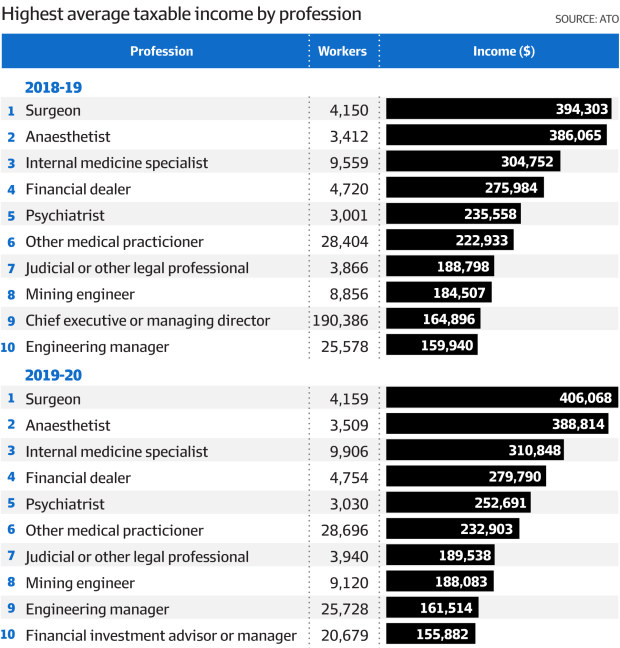 One in three property investors had a taxable income of between $50,001 and $100,000, while 38 per cent of landlords earned less than $50,000.
Investing is fairly evenly split between the genders. About 52 per cent of taxpayers with an interest in an investment property are men and 48 per cent are women.