Taking Teslas off the Grid with Innovative Ideas
Most Tesla owners have been asked, what if you run out of charge? Of course, everyone who drives with the T emblem on the hood knows it takes poor planning or pushing the limits to run out of energy in a Tesla.
Barring a catastrophic failure, the only reason a Tesla would lose its charge is if the driver ignored every warning, drove past every available charging station, and kept the pedal down until every drop was depleted from the battery. Nevertheless, the question remains, and some people are working on coming up with tangible solutions.
In September, a group called Charge Around Australia plans a long road trip without gas or spending a dime on electricity. The plan is to take a Model 3 9,380 miles (15,097 km) around the entire coastline of the Land Down Under to some of the most remote places on the planet. They will carry 18 lightweight, flexible printed plastic solar panels, which will be rolled up and stored in the trunk. They will roll out the panels for six hours daily to draw energy directly from the sun and charge up the Tesla.
Can printed solar panels power electric vehicles? pic.twitter.com/BIgMuI9oqn

— Reuters (@Reuters) July 5, 2022
These panels, produced using a wine label printer, pack a lot of power. In testing, the solar cells can produce approximately 20W/m2 in full sun conditions. However, production modules are projected to produce up to 50W/m2, with a 200 m2 installation producing around 60 kWh energy. That is enough to charge the Tesla for about two days of the trip or more than a week of typical commuting.
Professor Paul Dastoor, the Charge Around Australia lead, Reuters told he wants the creator of Tesla to find out about the project. "I hope if he finds out about it and Elon Musk will be very pleased, showing how our innovative technology is now combining with his developments to develop new solutions for the planet," said Dastoor.
While certainly not as sleek as the printed solar panels, Daniel Derkacs posted a video (shown above) showing his mobile solar charging set up. His PV provides 1.2 kW of solar power. He installed six 175-watt panels on a bike rack on the back of his Model Y and two more panels on his roof. The system feeds to the trunk, where a battery and inverter are installed.
The comment section was not kind to Derkacs, who did a follow-up video addressing some negative feedback. He stressed that this system is for his daily commute and is not for long trips.
Derkacs' Response to Comments
These are two examples of people looking to get off the grid and power their Tesla directly from the sun and provide a different answer to the question, what will you do if you run out of power.
By Gabe Rodriguez Morrison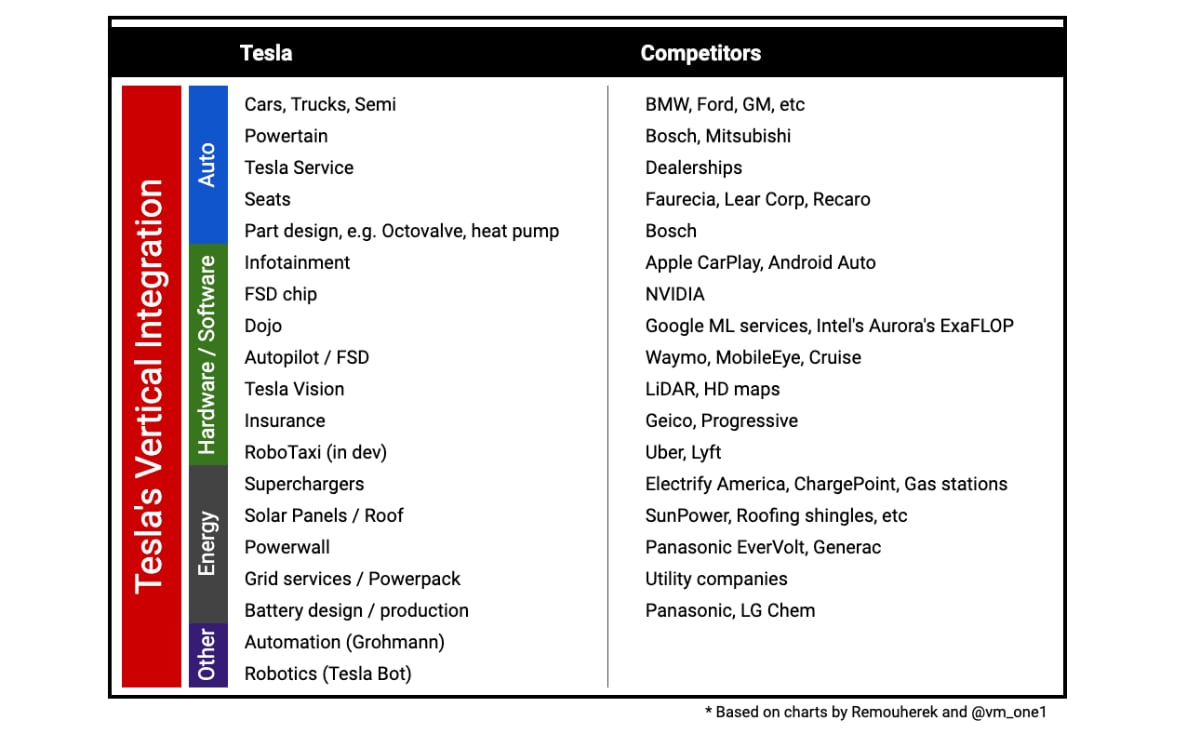 Supply chain issues brought on by the pandemic have been particularly challenging for the automotive sector. A global chip shortage among an onslaught of supply chain obstacles have adversely affected the entire industry. Tesla's vertically integrated strategy proved to be very advantageous when facing these supply chain challenges.
Tesla's insistence on vertical integration used to be one of the main reasons the company struggled to become profitable and reach volume production. Now, it has allowed the company to scale rapidly while the broader automotive industry is down amid a supply chain disaster.
The conventional automotive business model has traditionally concentrated on design and final assembly while largely outsourcing to suppliers. This strategy left them extremely vulnerable to supply chain turmoil.
In the past, automakers outsourced as much as possible and mainly focused on supply chain management. In the short term, this strategy reduced production costs but in the long term, legacy automakers lost the ability to adapt, innovate and advance technology.
Automotive manufacturing has typically relied on third party suppliers which has led to supply chain contingency and reliance on external companies. This business model has been successful for a long time due to the maturity of the internal combustion engine and a lack of need for innovation.
Tesla recognized the stagnant supply chain of the automotive industry and revolutionized it by adopting a vertically integrated strategy.
Tesla is a chain of startups

– Elon Musk
In recent years, Tesla has challenged the conventional business model, reducing supply chain needs and reliance on other companies.
Tesla has vertically integrated many production steps, from battery production to electric powertrain production and self-driving software. According to Tesla CEO Elon Musk, Tesla is a "chain of startups."
This strategy allowed Tesla to avoid shortages of batteries, which have hindered legacy automakers from reaching volume production of electric cars. Before legacy automakers started investing in electric vehicle manufacturing, Tesla partnered with Panasonic to build its first gigafactory to produce batteries. Now, the gigafactory ensures a reliable supply of batteries.
Lucid Motors, a newer EV automaker, has also adopted a more vertically integrated business model. CEO Peter Rawlinson says that gives them a huge advantage in the modern EV technology race.
In an interview, Rawlinson stated, "The electric powertrain cannot be bought off the shelf at a world-class standard, it is not a commodity. This is a technology race and the market doesn't see it yet."
Tesla's in-house software development is perhaps their biggest advantage over its competitors. As a Silicon Valley born company, Tesla has never outsourced their software. They have instead developed a proprietary self-driving software that is improved by collecting data from Tesla's network of over one million beta testers.
Ford CEO Jim Farley emphasized the company's need to move away from the "catalog engineering" business model at a conference earlier this year, saying "The most important thing is we vertically integrate."
Tesla is potentially going a step further to vertically integrate their supply chain. In light of the skyrocketing prices of lithium, Tesla may plan to get into the lithium mining and refining business. Tesla is considering mining some of its own raw materials for the same reasons that they developed their own batteries, produced their own electric motors and built their own computer chip and software for autonomous driving.
Tesla's pace of innovation and lead in the industry has become clear as the traditional business model of outsourcing components and software to cut production costs is quickly becoming outdated.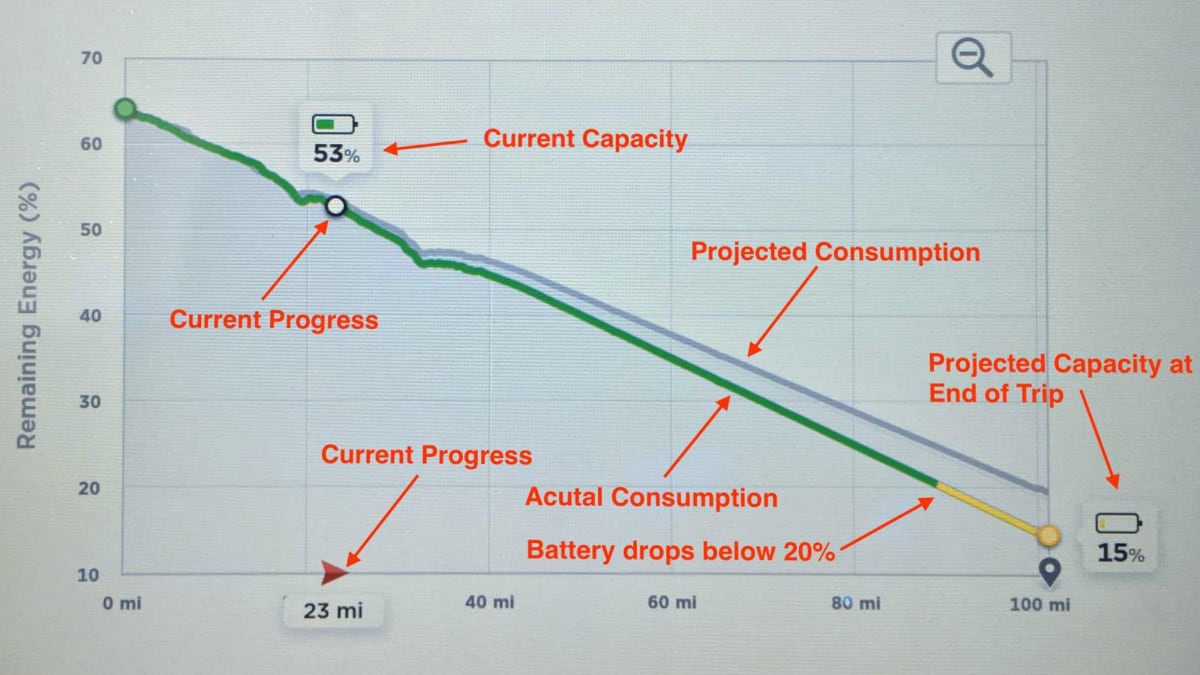 Tesla is making insane improvements to range prediction
Tesla is implementing a number of impressive changes to further increase the accuracy of range prediction in its vehicles.
In update 2022.20, Tesla added factors like wind direction and humidity to better estimate the range of the vehicle. Now the automaker is taking it one step further to more accurately display range and destination arrival percentage.
Tesla hacker and software engineer @greentheonly took to Twitter to say that "2022.20.7 seems to go into insane details to improve range predictions. Even tire pressure is taken into account (amongst many-many other extra variables just added)."
Greentheonly adds that the vehicle's software will factor in the energy loss for phone charging and 12V accessories, battery heating/cooling, and air density.
The number of passengers inside the vehicle are now also taken into account, not only to account for the additional weight but to also account for the additional energy that the A/C has to use in order to maintain the cabin's desired temperature.
Version 2022.16 was launched in mid May and made calculating energy consumption more accurate. 2022.16 also introduced automatic Supercharger rerouting when the current Supercharger destination was congested.
Range anxiety is becoming a thing of the past, especially with EV owners who are very familiar with their vehicles. But for new owners, it's still a thing.
These new improvements being implemented by Tesla in version 2022.20.7 are very much welcomed. Having the most accurate information to predict what percentage you'll arrive at your destination is crucial, especially in the times when you won't have charging readily accessible and for road trips.
It will be interesting to watch and see how these changes and considerations for range happen in real world scenarios. While these vast improvements will hopefully increase range transparency across Tesla's entire fleet.
.