UCT Financial Innovation Hub Named Center Of Excellence
"Africa holds tremendous potential for blockchain technology, and the new Algorand Center of Excellence will help establish UCT as a gateway to blockchain innovation on the continent. Being part of such an extensive network of outstanding researchers will strengthen our own research in the area of ​​central bank digital currencies, financial inclusion, and digital property rights," he said.
UCT has long had a focus on blockchain and is home to the only dedicated master's program in financial technology in Africa, launched in 2019. The Financial Innovation Hub, which was established in 2021 and is located in the School of Economics, brings together the greatest minds on the African continent to lead in the research and innovation of financial technologies.
The center forms part of UCT's greater strategic initiative to produce students who not only have the skills needed in industry, but who are also able to create employment opportunities both in South Africa and across Africa.
Anda Ngcaba, the chief of operations for the UCT-Algorand Financial Innovation Hub. Photo Lerato Maduna.
"The hub translates the latest academic research into novel blockchain applications by working closely with students and entrepreneurs. We offer support to entrepreneurs using our internal resources; We have a team of six full-time staff. We also connect students to leading industry participants through various events and seminars related to fintech and blockchain.
"It is an honor to be selected as one of the 10 recipients of the ACE Programme; this will certainly propel our vision," said Anda Ngcaba, the chief of operations for the UCT-Algorand Financial Innovation Hub.
Unchaining emerging technologies
Areas of study in the center include blockchain applications, central bank digital currencies, privacy, cyber security and digital inclusion. Creating open-source software that furthers the public good is front and center to the hub's efforts, with particular attention being paid to technology's role in furthering financial inclusion as well as blockchain's potential for the creation of digital property rights.
According to Associate Professor Georg, this focus ensures that future fintech entrepreneurs are able to build solutions that work in the African context where access to smartphones and internet connectivity are prevalent problems for a large part of the population.
"Both our research and the course curriculum for the MPhil in Financial Technology are highly interdisciplinary and transformative in nature. We teach students the hard skills necessary to launch their own start-ups and forge their own futures. Now, with the innovation hub, we can also provide a strong support network for student entrepreneurs in the blockchain space," he noted.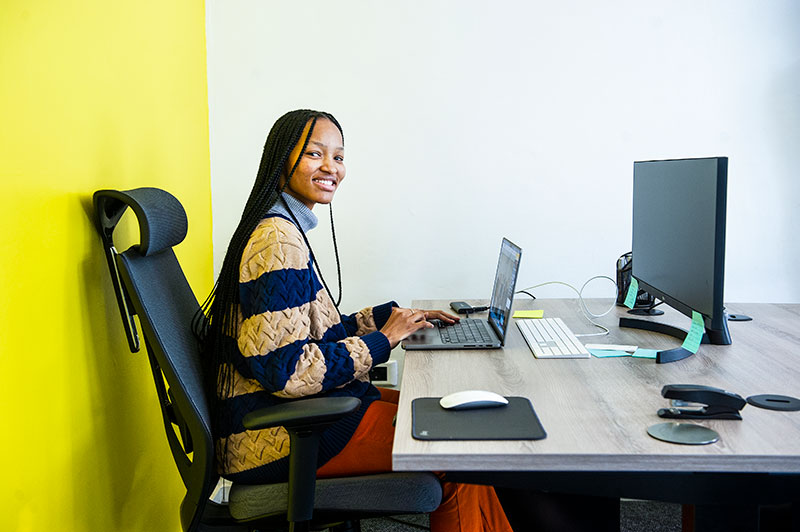 Adding to this, master's student Max van der Lecq highlights how the hub's MPhil in Financial Technology, in particular, broadens students' horizons. "The MPhil in Financial Technology has been an incredible experience up to this point, allowing me to gain a deep understanding into the fascinating field of emerging technologies.
"Coming from a pure finance background, being exposed to the coding side of a fast-paced and exciting industry has been particularly beneficial. Attending several events and having guest lectures from entrepreneurs and creators has also been an area of ​​great inspiration for me."
Opening up collaboration for innovation
Thus far, the innovation hub has helped launch five innovative ventures, including Axone, a collaborative content creation platform and non-fungible token marketplace developed by Takunda Chirema.
The start-up, which was successfully piloted at the Michaelis School of Fine Art, aims to enable authors to collaborate to explore alternative angles for books. The outcome is a final product with multiple trajectories created from derivative work, various endings for the same work and monetization for the collaborators who contributed.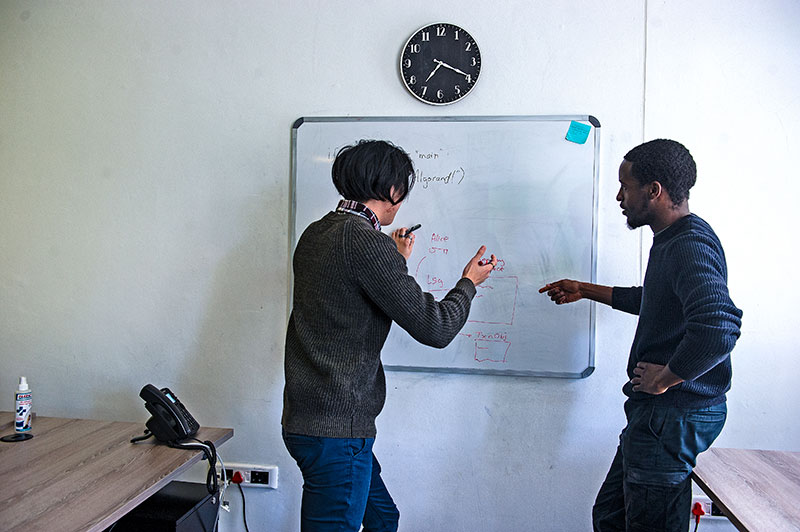 Chirema said that collaboration is fundamental for innovation. "Major research breakthroughs happen at the intersection of multiple disciplines. For example, machine learning is an intersection of neuroscience and computer science. Hence, it is important to have platforms like Axone which facilitate that. The innovation hub is a great example of a space where this collaboration is encouraged and such centers are pivotal for ideation and implementation of these ideas," he said.
In addition to providing workspaces and infrastructure for budding tech entrepreneurs, the Financial Innovation Hub works closely with industry to enhance the viability of these ventures. "We work very closely with industry to find specific use cases for the ventures within the hub. This helps us ensure there is a market for the various problems we're trying to solve.
"Through our practitioner seminars and class projects, we pride ourselves on building future fintech entrepreneurs for the continent," said Ngcaba.